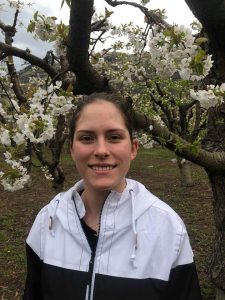 Sabrina
Fortunato
Manager/Supervisor/Employee
Education/Experience:
Diploma in Business (majoring in Marketing and Management)
Selling fruit for 9 years
Farmhand for 11 years
Interests/Hobbies:
Figure skating
Collecting various items
Adventuring
Favorite Fruit: Nectarines
Sabrina is the middle child of John and Linda's 3 daughters. She has lived on the family farm all of her life and enjoys getting the chance to ride ATVs, plant trees, and run away from the bees. When she was younger she, her 2 sisters, and her cousins loved "sneaking" out of the backyard to pick fresh fruit off the trees and ride their bikes. Sabrina and her sisters would often help out their parents with smaller jobs like "fixing pallets", making boxes, and bringing cold drinks for everyone. She is now the manager and supervisor of the business. You can usually find her chatting with customers and "sampling" the apple juice.