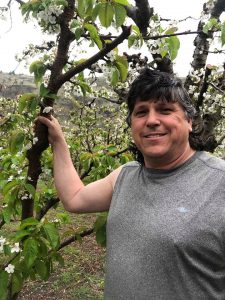 John
Fortunato
Owner/Operator
Education/Experience:
Selling fruit for 20+ years
Class 1 driver for 25+ years
Farming experience for 30+ years
Interests/Hobbies:
Video games
Soccer
Collecting various items
Favorite Fruit: Everything (except prune plums)
John is Linda Fortunato's husband. He was raised in Barroca, Portugal until 1989 when he moved to Canada where he stayed with his older sibling and worked for Linda's parents. As time went by John and Linda sold alongside each other in various towns throughout Alberta, got married, bought the orchard, began their business, and had children. John now hauls fruit from their family farm in Oliver, BC all the way up to Hay River, NWT throughout the summer and helping his wife on the orchard throughout the rest of the year. You can usually find him chatting and laughing with customers or driving miles and miles in his purple semi.